HDPE Conveyor Rollers
Eximis manufactures world leading energy saving HDPE conveyor rollers complete with conveyor cradles. The conveyor Idler known as

. Eximis has years of experience in Industrial and Mining processes and equipment.
Problems with rollers
Idlers have been designed the same way for decades. Materials may have changed slightly, but the design flaws are still built in, i.e. rapidly wearing contact seals, rotating end caps to seize, welded-in end caps to wear away, non-concentric welding, poor bearing support (fits on shaft and on the inside of end caps) resulting in premature bearing failure.

The market had come to perceive idlers as high usage engineering consumables, with price the most important consideration in the purchasing process.
Quality Materials
If quality materials are used in the manufacturing of idlers, bearings are correctly installed (tools, fitting and fitting tolerances), bearings are well protected against the ingress of dirt and moisture, then the life of a idler will ultimately be determined by the bearing life.
Despite magic claims and impressive drawings by manufacturers, less than 0.0000001% of idlers reach their L10 bearing life. Manufacturers jumped on the low cost wagon, at the cost of quality, costing industry R billions per year.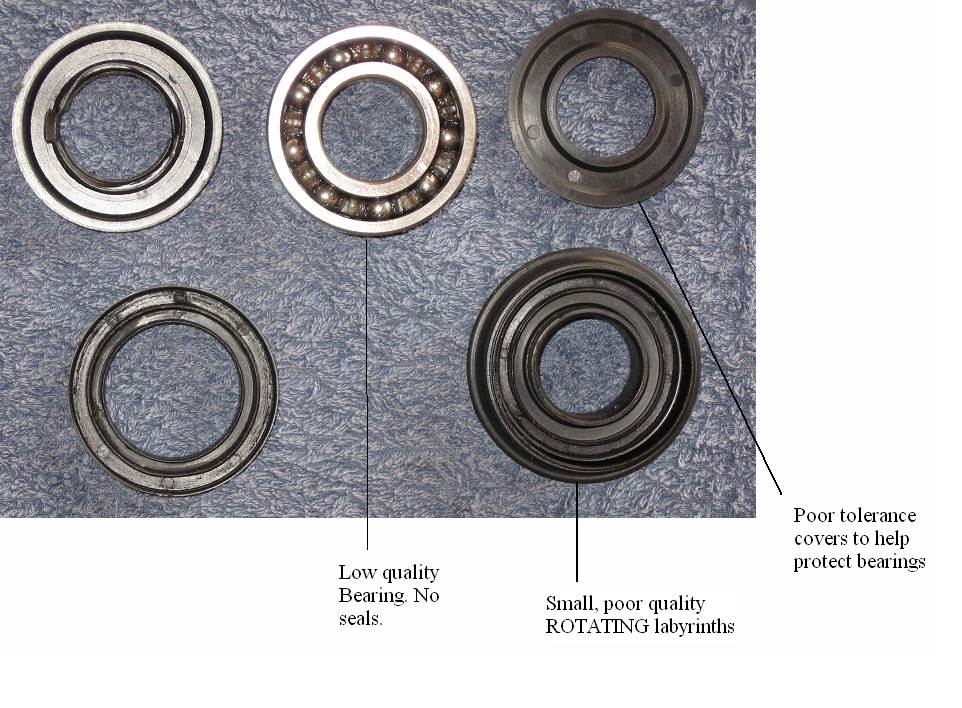 The HDPE Idler / Design
The HDPE idler was designed to alleviate all of the mentioned flaws, to give a long life and cost savings to the customer. This unique design incorporates:
Triple seals: Expeller ring, high tolerance labyrinth, and pre-sealed quality bearings. (Others use unsealed, low quality bearings, combined with ineffective labyrinths)
Bearing fits accurately controlled and repeated by high tolerance injection molding. An important factor concerning bearing life. (Other manufacturing processes lack accurate, repeatable bearing fit tolerances)
Manufactured from high quality materials. Special additives to the HDPE makes the idler antistatic, reducing dirt/dust build up. All components are tough, light and concentric.
Stationary end discs to reduce pegging problems. (Most other idlers have rotating end discs).
No welds in construction = No welds to fail.
Low friction between HDPE and the rubber belt. In case of seizure, drag does not increase excessively and the risk of the conveyor bursting into flames is eliminated. A worn HDPE idler will also not cut or damage the conveyor belt. (Even if worn right down to the shaft).
The wear resistance of HDPE is much higher than steel. The wall thickness of the SPERANZA HDPE idler is more than 3 times higher than that of an average steel idler. This calculates to an estimated 30 times longer wear life, also when stuck.
Superior start-up and running power requirements (even with seized HDPE idlers), due to seal design, lower weight, accurate fitting tolerances of bearings and components.
Polymer components absorb noise for quieter running.
The HDPE Idler / Key Advantages
Excellent sealing configuration with water repellant for additional protection

Designed to have minimal friction

Extended shaft for easy and fast fitment
Fiber reinforced Nylon shaft:

Rust Free
No damage to bearings during assembly
Light Weight

Minimum distance between bearing and fulcrum:

Low bending flex
Longer bearing life

Quality deep groove double sealed bearing
HDPE pipe

Limited bending deflection
Lighter than Steel

Durable
​

Energy efficient HDPE Idler /

The HDPE roller does not create sharp edges such as a steel roller when wearing and thus belt damage is non existent with HDPE roller.
In the case of the

, the use of superior bearings which is sealed and reduces chances of bearings that seize due to dust and water ingress substantially and obvious roller will keep on running as was tested in field runs where these rollers are running in an excess of a year in harsh hard rock environment.
HDPE Idlers are of superior quality because of the
following properties
ENERGY Efficient

-

The light weight (More than 40% lighter than steel) requires less energy to move

-

Low rolling resistance = less energy used

Corrosion Resistant

-

No metal is exposed to the elements, thus no rust is formed

-

Ideal for coastal mines or mines working with highly corrosive materials

-

Idlers can be stored in the open for much longer periods than steel idlers or HDPE idlers with steel shafts

Reduced Noise pollution

-

Areas where noise need to be kept to a minimum will greatly benefit from the Speranza Idler

-

Runs up to 3 times quieter than steel idlers

Long Lasting

-

Excellent sealing configuration with water repellent protects the bearing against water and dust exposure

-

The bearings used are high quality double sealed bearing giving added protection

-

Extra thick HDPE pipe ensures minimal deflection under load

-

The HDPE pipe will not damage the conveyor belt when the idler reaches the end of life

Easy to install

-

Light weight and easy to carry (Up to 3 times lighter than steel)

-

Extended shaft makes fitment into idler frames much faster and safer

-

Improves ease of conveyor belt installation due to low rolling resistance
Superior Quality

are of superior quality but most importantly cost effective design and construction.
Most importantly these HDPE Idler roller has undergone extensive field and laboratory tests and came out surpassing expectations.
It boasts a extra thick shell which gives it extreme pressure bearing capacity of beyond 1,5 tons tested at the SABS lab where it also complied with the SABS 1313 part 3 - 2012.
The rollers have been running for a year on field test at Lesotho hard rock mine Kao on one of its production conveyors and is performing exceptionally even under severe conditions:
"The idlers are performing very well in places where we had other rollers fail and we considering to replace our other rollers too" – Plant manager Kao.
Flyer
Download the below.